Nota: gambar Arkib Komuniti Abu Baseer
Tahniah kepada Puan Ramlah dan pasukan Malaysia kerana memenangi pingat gangsa Kejohanan Bowling Paralimpik
Sukan SEA2011
Prof Ismail Md Salleh dalam ingatan
The Star 28Aug2009 Obituary by SOO EWE JIN
EVERYONE who knew him called him Prof. An outstanding scholar in economics and a powerful advocate for the disabled, Prof Datuk Dr Ismail Md Salleh up close and personal was a simple, warm and compassionate person.

He had a fantastic memory with facts and figures. More incredibly, he never forgot anyone he came into contact with. Just a simple hello and he would instantly recognise your voice.

Ismail, 62, died on a flight from China to Singapore early yesterday.
Our paths crossed when we were colleagues at ISIS Malaysia. He was head of the Bureau of National Economic and Socio–Economic Policy Studies and rose to the ranks of assistant director-general and deputy director-general.
That was the time when he started making a name for himself in the public domain. He was a much sought after speaker.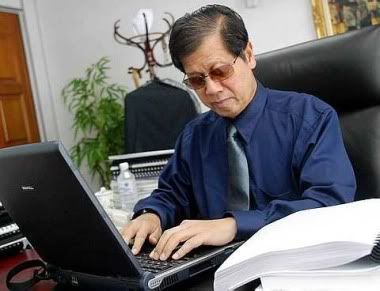 Datuk Dr Ismail Md Salleh
At every conference he attended, at home or abroad, no one saw Ismail as an academic who was visually impaired. His work was all that mattered.

His sound arguments and deep knowledge of the issues made him stand out.
What many did not see was the extra work he had to put in to put his work together.

Work from traditional sources had to be converted into Braille for him first to use as reference and when he completed his own work, that had to be also converted for him to check.

It was a tedious process but he was always very happy and grateful to those who helped him along the way. His brother, Zakaria, was his constant support.

When Ismail attended conferences or meetings, he would need to listen to the proceedings carefully.

All the PowerPoint presentations or written text were of no use to him but by carefully listening, he was able to take active part in all the discussions.

As an advocate for the disabled in general, and the blind in particular, Ismail was a regular participant at the pre-Budget dialogues where he would passionately raise issues of concern to the disabled.

When he was appointed the first blind senator in December 2007, the disabled community rejoiced.

He told my colleague who interviewed him that he was surprised but not too surprised.

"The talk of having a senator to represent the disabled had been circulating for many years now. In fact, I have been one of its strong advocates," he said.

I called him then to congratulate him and told him how timely that the Persons with Disabilities Bill had just been passed by the Dewan Rakyat and was heading towards the upper House where he would be present.

"They will have to let me speak the most when the Bill is tabled," he laughed.

As a colleague, I found it a challenge yet a great joy to work with him.

He was always of good cheer and patiently waited for articles to be converted into Braille so he could check on corrections and the like.

Whenever we completed his books or publications and handed them to him, he would be very happy even though no Braille edition was published.

He knew what was in the books by heart and was proud that his disability was never an issue in their publication.

As a social commentator, Ismail was always up to date on current affairs and could be counted on to give his comments immediately.

His input at pre- and post-Budget discussions with the media, including The Star, revealed a clear understanding of the socio-economic issues of the day.

He was born in Kampung Gua in Pasir Mas, Kelantan, in 1947 with a low vision condition and became totally blind when he was 13.

But his condition was never an impediment to what he set his mind on.

At every stage of his education, from primary to tertiary, new windows of opportunities were opened up, and he always found people willing to go the extra mile to help.

Initially, he could not even go to school as there were no schools for the blind in Kelantan. Only two states had such facilities then – Penang and Johor. His father enrolled him as a Standard One pupil at the Princess Elizabeth School for the blind in Johor Baru. It was practically like going "overseas" for the young Ismail.

He was able to return to Kelantan for his secondary education where the Government allowed blind students to be part of the normal school system. At that time, he was one of two blind students placed in a secondary boarding school in Kota Baru.

Ismail did his Form 6 at St John's Institution in Kuala Lumpur and was awarded a Mara scholarship to study in the US. He would always give credit to Wahab Alwi, a member of the panel, for fighting his cause.

Wahab had once studied under a blind professor in Australia and he was confident Ismail would do well. He fought to convince the others that Ismail would be a worthy candidate for sponsorship.

Ismail did not disappoint. He graduated with a Bachelor of Science from the State University of New York in 1973, and received his Master of Science (Economics) from the University of Illinois in 1974, before obtaining his PhD from the same university in 1977.
When he was younger, he had wanted to follow in the footsteps of his idols, the first two Prime Ministers, and studied law. But he had a flair for mathematics and economics became his chosen field instead.

He served on the Malaysian Association of the Blind and on various committees and working groups at the local and international levels. He was the International University College of Technology Twintech vice-chancellor, National Association of Bumiputra Private Colleges president and National Economic Consultative Council chief rapporteur.
He was also a member of the National Implementation Task Force in the Prime Minister's Department, and the East Asia International Council for the Education of the People With Visual Impairment chairman.

Ismail also received the Tokoh Maulidur Rasul award last year.

He will be deeply missed. Farewell, Prof.